[ad_1]

Last Updated on February 17, 2023
If you've ever been to a music festival or concert, chances are you've noticed the overflowing trash bins, plastic disposables littering the ground, and energy-sucking generators on stage.  
In America, the massive Coachella music festival alone produces 107 tons of waste each day of the event, with only 20% of it getting recycled.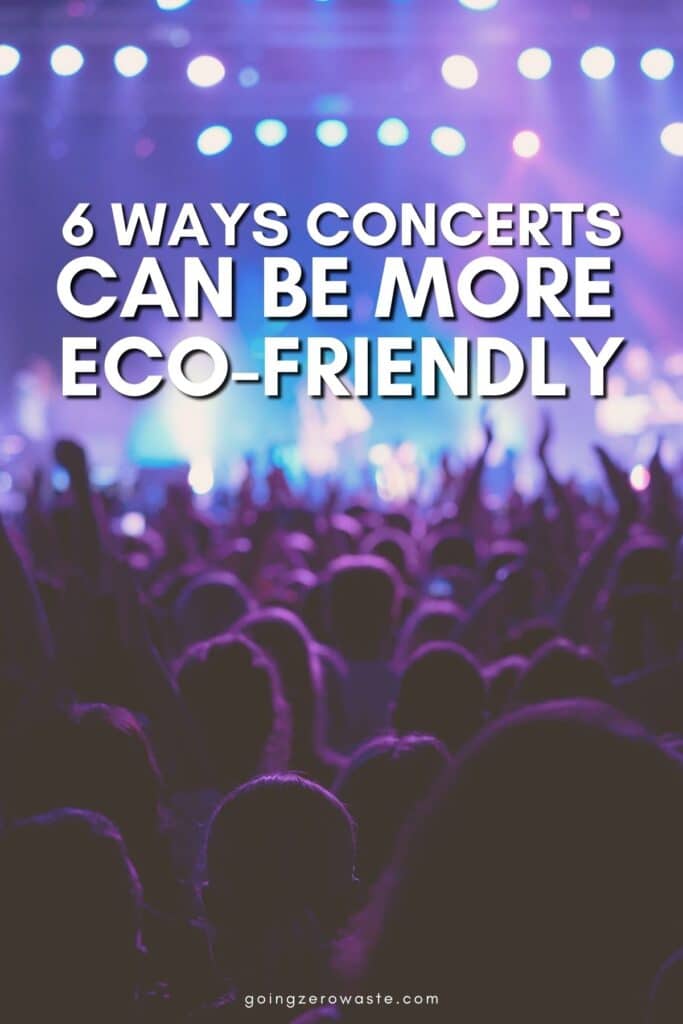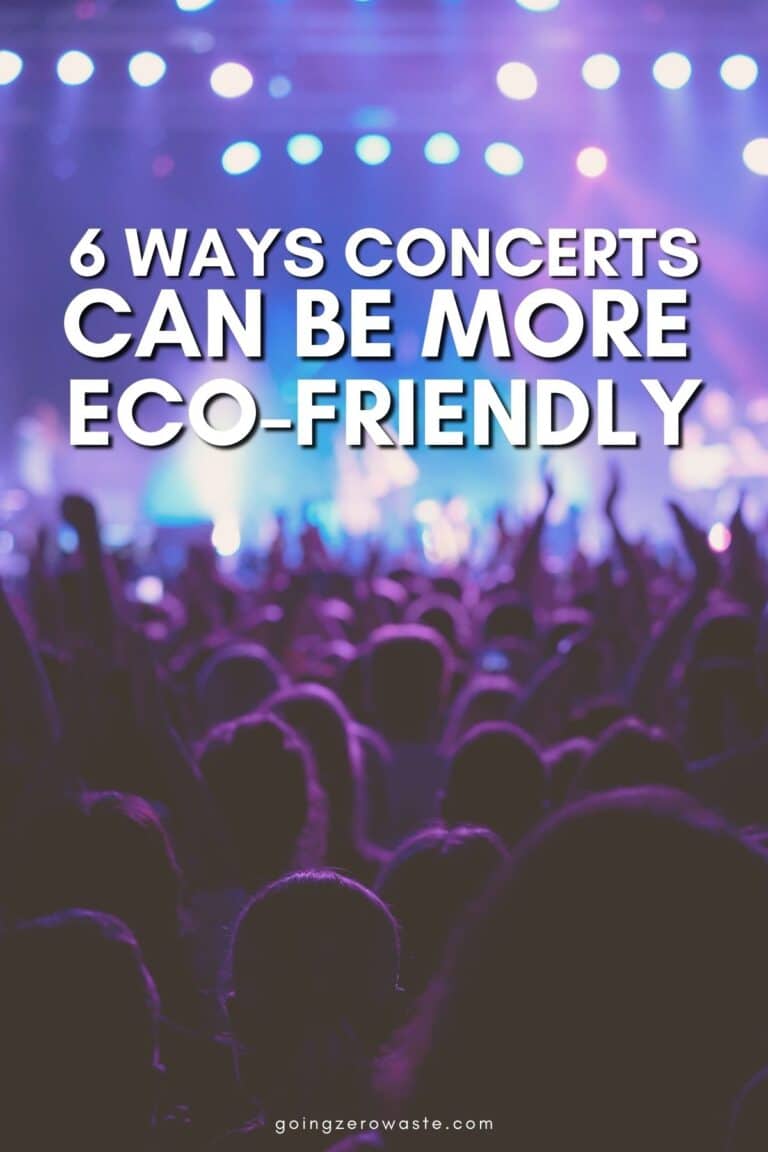 Concert goers in the US produce 106 million pounds of waste each year according to Claire O'Neill, co-founder of A Greener Festival. That's the equivalent of 450 blue whales! 
But what if I told you there was a way to make concerts more eco-friendly? Reusable Solutions' CEO+ founder Benjamin Kogan has launched Musicians for Sustainability, a pledge that enables bands and vendors to create more eco-friendly events. 
Kogan has signed on four bands to make the pledge already and he has the goal of eventually signing on a hundred bands. Here's how the Musicians for Sustainability pledge works and the ways it can help concerts be more eco-friendly moving forward.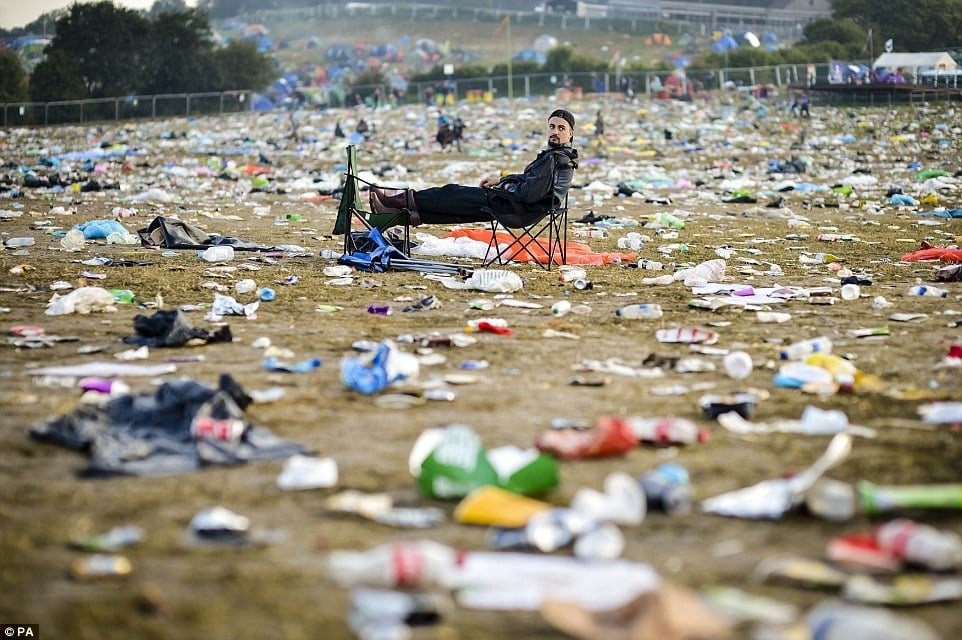 how do concerts affect the environment? 
Concerts affect the environment by driving up emissions through artist and fan travel, energy usage and the waste that occurs at these events.  
transport 
In order to get to a concert, artists must be transported to said event (and this can typically include air flight, like private jets, which only increase their carbon footprint). Fans too must find a way to get to the concert: This can come in the form of driving, taking planes, or public transportation. 
By far, public transportation and carpooling reduces emissions. Especially if you're using electric vehicles.  
However, many celebrities use private jets to get to their destinations. Experts estimate that an hour of flight time aboard a private jet introduces about two tonnes (also known as metric tons) of carbon dioxide into the air. Taylor Swift ranks as the celebrity with the highest private jet usage as of 2022.  
energy 
Along with transportation emissions, there's the energy usage at concerts to consider: On average, a concert will use around 500,000 watts of electricity. This is the equivalent of 500 light bulbs, each using 1,000 watts. 
These concerts tend to be powered by diesel generators, which emit a lot of pollution. However, venues who power their events using renewable energy and solar panels can eliminate this problem.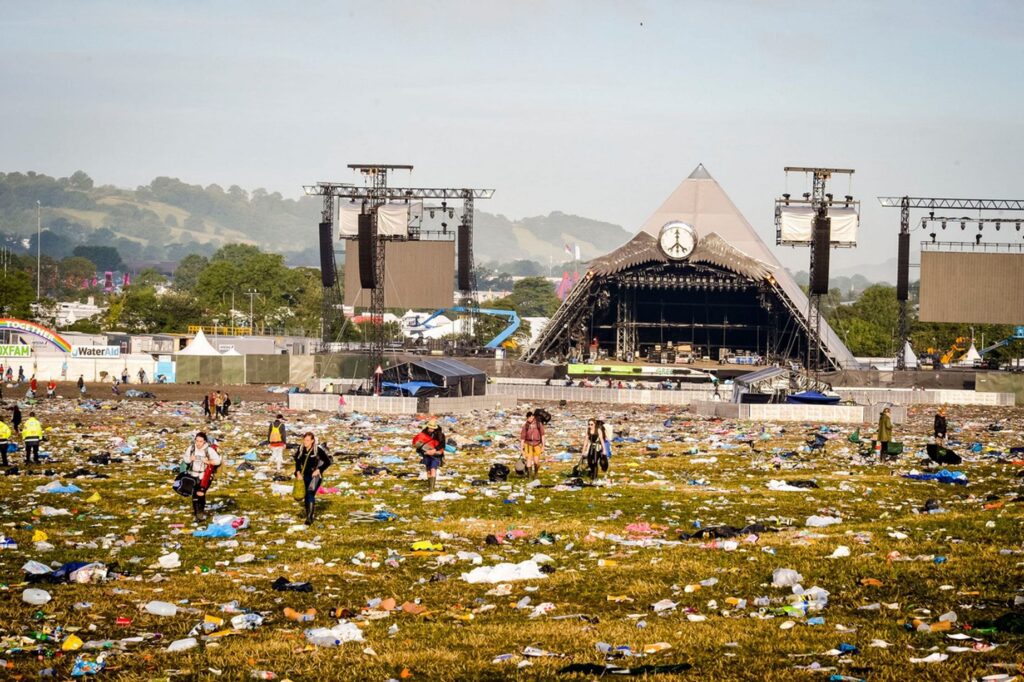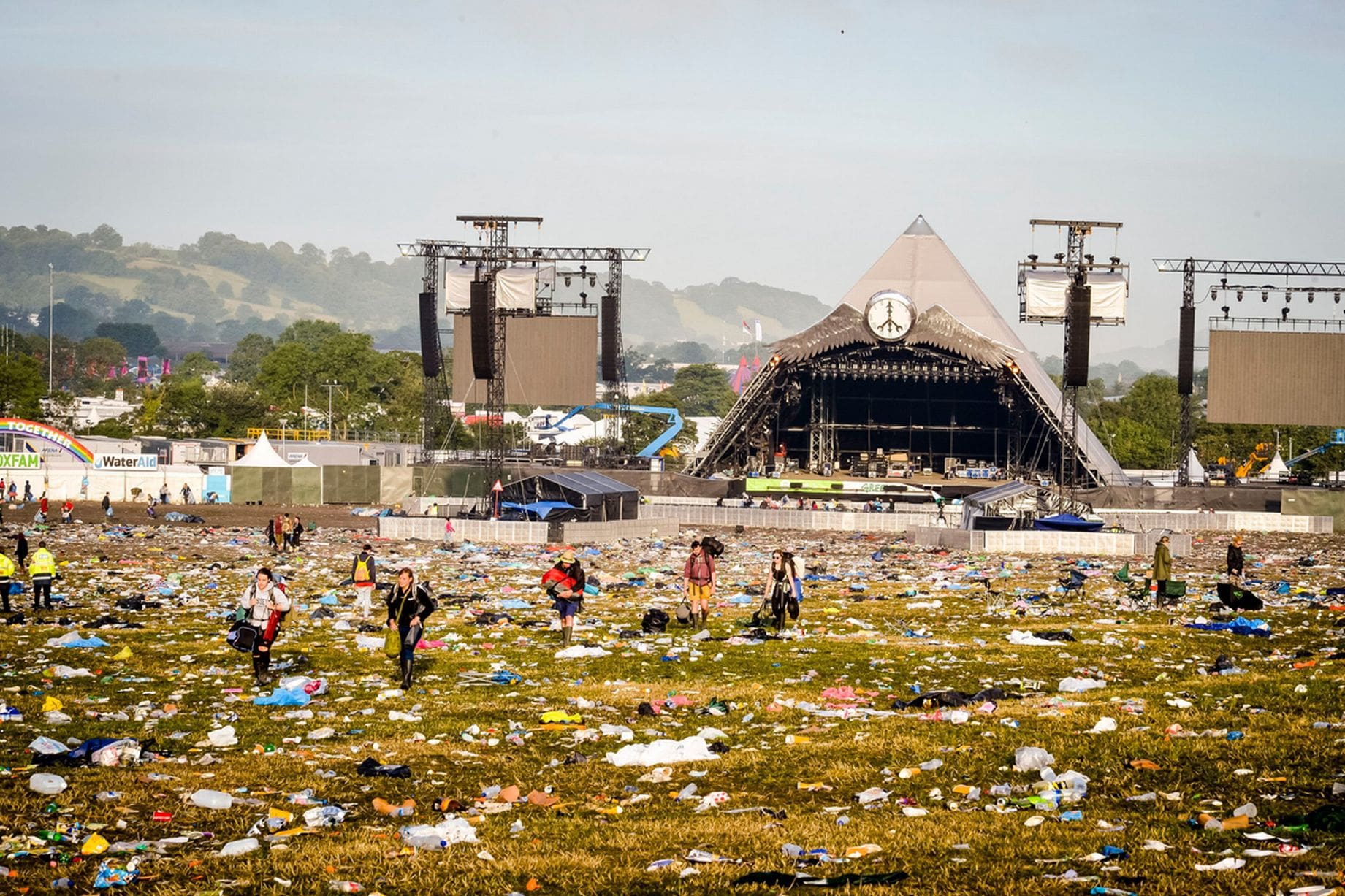 waste  
As mentioned earlier, concert goers in the US produce 106 million pounds of waste each year. This doesn't take into account all the music festivals held outside of the US.  
The main problem is the disposables offered at concerts: Plastic cups, plastic water bottles, disposable food containers, etc. While many events will provide some recycling bins, this often isn't enough: At the end of the night, these are typically overflowing, and a lot of wishcycling happens. 
Offering reusables at events is one potential solution, as is encouraging people to bring their own reusables.  
Also, many concert goers enjoy getting creative and using glitter: Glitter is just microplastics. Switching to biodegradable glitter could be another potential solution. Eco Glitter Fun and Projektglitter sell cosmetic safe, cruelty-free, and biodegradable glitter.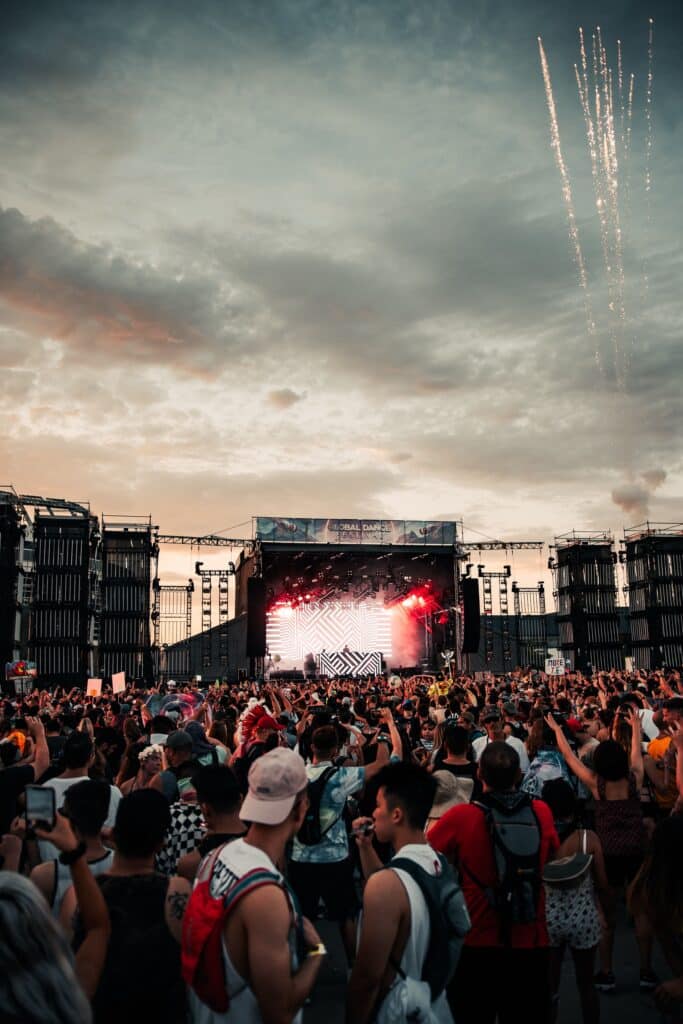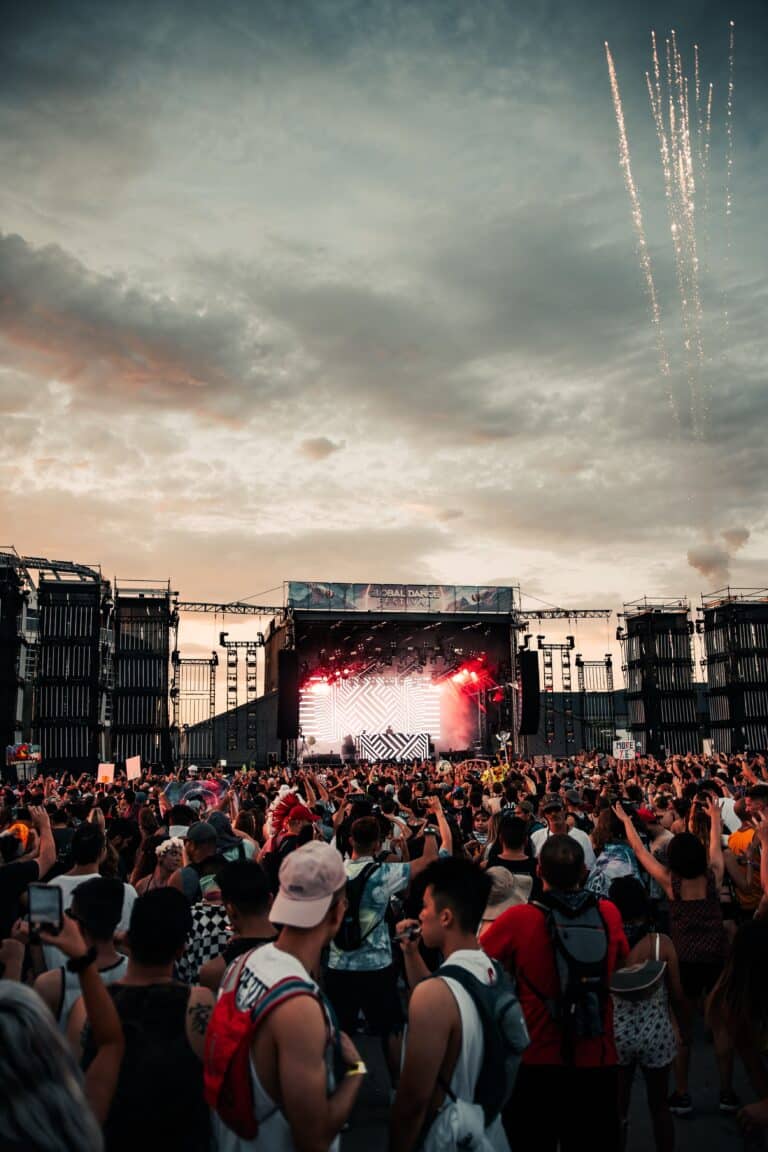 how can concerts be more sustainable? 
Thankfully, concerts can be more sustainable when artists and bands act and demand better from the venues they're performing at. But they don't have to do this alone. 
Reusable Solutions, an outreach organization dedicated to eradicating single-use plastic, has just launched their public facing pledge that supports bands pushing venues to become more sustainable. 
Bands that make the pledge with Musicians for Sustainability can create a more eco-friendly experience for everyone. Together, the band, venue, and Reusable Solutions will coordinate a way to create more sustainable events.  
When a band signs up, the venues they choose will have to fulfill at least three of these sustainability suggestions: 
1. renewable energy
Source your power from 100% renewable energy. This can include on-site, community solar co-op, wind energy, or renewable energy credits. 
2. reusable cups
Provide cups that are cleaned by the venue or a third party. Use kegged wine or beer when possible. Companies like Muuse and CupZero are potential solutions. 
3. can carrier reuse
Join, start or fund a reuse program for reusable can carriers and/or glass bottles. Reusable Solutions can help implement a reuse program at any venue.
4. food/compost
Provide ample composting with clear signage if food is served. Also, food should be served in reusable/returnable containers like the ones from DeliverZero.  
5. incentive low carbon travel/EV charging
Here are a few ways this can be mitigated – incentives for carpool (ex: free discount), EV charging stations, discounts for bus or train travel, providing an option to offsetting travel at checkout, etc. 
6. water refill stations
Provide water refill stations. This can eliminate the need for thousands of water bottles. 
These are the main ways to create more eco-friendly concerts. Bands looking to make a positive impact can sign up and pledge on Reusable Solution's website. Ben Kogan, co-founder of Reusable Solutions, will help bands talk to their venues about meeting at least three of the sustainability suggestions above.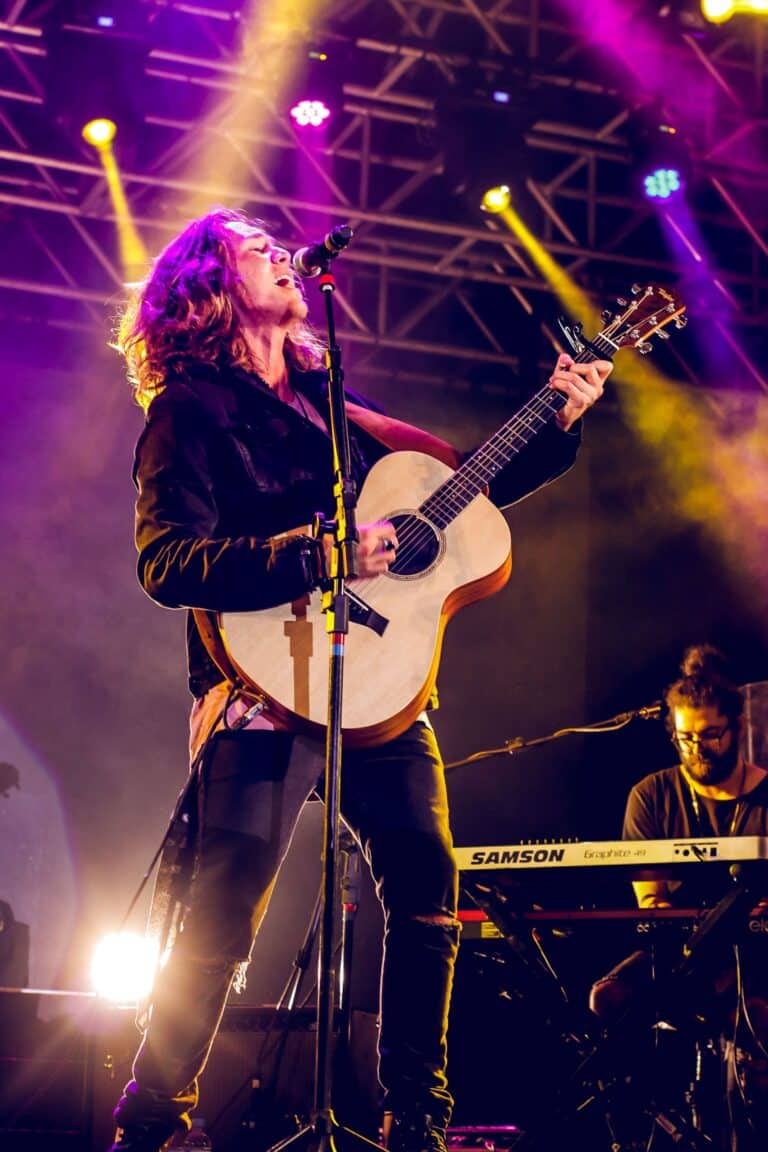 how can musicians be eco-friendly?
Many artists are trying to lessen their impact on the environment. Billie Eilish is one of them: Starting with the fact she refuses to fly private.  
But that's just the start: In 2022 she greened her Happier Than Ever world tour in partnership with the nonprofit Reverb; a year prior, she famously secured a guarantee from Oscar de la Renta's creative directors, Fernando Garcia and Laura Kim, to stop selling fur when she wore their design to her first #MetGala; she staged a six-day climate summit last June called Overheated, where the pop star let other musicians, sustainable fashion designers, and activists take center stage. 
Coldplay also pledged to make their Music Of The Spheres Tour as sustainable and low-carbon as possible. They're doing this by cutting the tour's emissions by more than 50% than their previous tours (2016-2017). 
 
Know of any bands that you'd love to see taking this pledge? Be sure to share this article on your socials and tag them! 
Have you ever been to any eco-friendly concerts? Let me know in the comments!
[ad_2]