[ad_1]

Leading Thoughts for March 2, 2023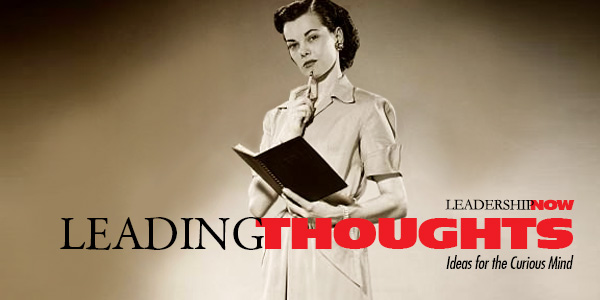 IDEAS shared have the power to expand perspectives, change thinking, and move lives. Here are two ideas for the curious mind to engage with:
I.
Former IBM Chairman and CEO Ginni Rometty on the challenge of changing a culture:
"When moments of reinvention arrive, innovating the how can be overlooked in favor of focusing on the what. Indeed, it's not enough to just tell people to deliver a different outcome. We have to cocreate a new way of working, give people permission to change, and create an environment that encourages and rewards new behaviors and skills—all at scale."
Source: Good Power: Leading Positive Change in Our Lives, Work, and World
II.
Fortune 50 technology and business leader Daphne Jones explaining why purpose is the combination of passion and capability:
"Purpose is the combination of one's passion and capability. Purpose is basically the reason you exist. The simple way I define a person's purpose is by understanding what that person loves and has a natural inclination or capability to do. If you have a passion for a certain vocation, but you don't have the natural instinct or capability to learn and do it well, that is not your purpose. If you have a capability but you aren't interested in exploiting or using it to a meaningful end, that is not your purpose. Only when those two aspects exist at the same time does your purpose get rendered."
Source: Win When They Say You Won't: Break Through Barriers and Keep Leveling Up Your Success
* * *
Look for these ideas every Thursday on the Leading Blog. Find more ideas on the LeadingThoughts index.
* * *


Like us on
Instagram
and
Facebook
for additional leadership and personal development ideas.

Posted by Michael McKinney at 09:15 AM

Permalink
| Comments (0)
| This post is about LeadershipNow 140


[ad_2]