[ad_1]

The Center for Health Design, in partnership with Healthcare Design magazine, produces the annual Healthcare Environment Awards. The program celebrates designs that improve safety and outcomes, enhance experiences, and increase organizational efficiency.
Entries are submitted in a range of facility categories including acute care, ambulatory care, long-term/assisted living, conceptual design, alternative setting, and student design work.
For 2022, four projects were named winners and three received honorable mention. Those projects were honored at the Healthcare Design Conference + Expo in San Antonio in October 2022.
Here's a snapshot of the winning projects. For more information on all the winners, visit healthdesign.org.
Acute (Inpatient) Care Facilities: Sabanera Health Center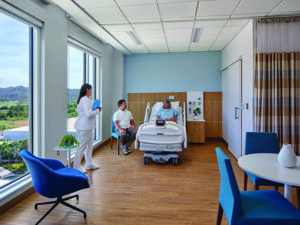 Submitted by Prisa Group, V Architecture, and Perkins&Will
Set on the north shore of Puerto Rico, the 188,000-square-foot Sabanera Health Center project provides high-quality care in a tranquil setting. Landscape and building elements are designed to provide an interconnected experience with nature that enhances wellness and the healing process.
The seven-story, 107-bed building comprises a general hospital and multidisciplinary clinic. Utilizing evidence-based design, the project team designed a courtyard to serve as a natural wayfinding driver and to help occupants navigate the building.
The space also provides respite and relief to workers, clinicians, families, and patients with fresh air and views to nature.
Alternative Settings: Aastrika Midwifery Centre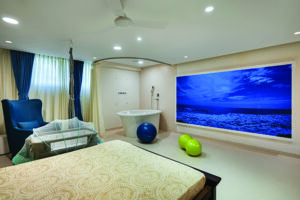 Submitted by Perkins Eastman Architects
The 5,300-square-foot birthing center provides both outpatient and inpatient care in India. Utilizing input from midwives, the goal was to design a birthing center that revolves around evidence-based birthing concepts to promote well-being and patient satisfaction.
Private labor and delivery rooms at the Aastrika Midwifery Centre are designed to reduce stress, with homelike fittings and furniture as well as appropriate exercise equipment and space to support natural births.
Student Design Work: Synergy/University Center for Health & Wellness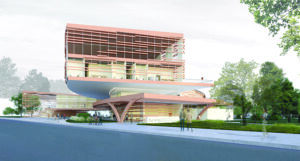 Submitted by Molly Knake and Isabella Smith, University of Kansas
This student submission addresses mental health care on a university campus by bringing together all physical and mental health services under one roof. The goal is to provide students with greater access to and awareness of what's offered to them as well as increase staff collaboration to better assess and help patients.
This synergy is achieved through a set of guiding principles of equity, accessibility, and collaboration. Defining features include a large atrium that connects all levels, closely related departments, and shared spaces to increase collaboration. A new clinic model would blend physical and mental health services.
Student Design Work: Sun Diego Drive-through Urgent Care Center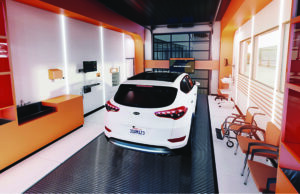 Submitted by Parsa Aghaei, Kent State University
Inspired by the use of drive-throughs to temporarily deliver healthcare services such as vaccinations and blood draws during the COVID-19 pandemic, this student project sought to explore how drive-throughs can become permanent attachments to healthcare facilities.
A literature review to identify existing knowledge on drive-through healthcare and interviews with healthcare design professionals along with patient surveys helped to inform the concept. Together, the data was translated into a proposed facility that allows patients to choose a drive-through element or a traditional clinic setting, with a quick and easy workflow between the different options for staff to deliver care.
Honorable Mention winners:
Alternative Settings: Sheltering Arms Institute, submitted by HDR
Ambulatory (Outpatient) Care Facilities: Academic medical hub in the heart of a large urban center: The last phase of the new CHUM hospital complex, submitted by CannonDesign + NEUF architect(e)s and Jodoin Lamarre Pratte, Menkès Shooner Dagenais LeTourneux Architectes in consortium
Student Design Work: Cleveland Cancer Care Center, submitted by Hossein Mirzajani, Kent State University
Anne DiNardo is executive editor of Healthcare Design magazine. She can be reached at anne.dinardo@emeraldx.com.
[ad_2]