[ad_1]

Last Updated on March 29, 2023
Most laundry detergent bottles are made from plastic #2, aka high-density polyethylene (HDPE). While HDPE is considered one of the more recyclable plastics, just 30% of HDPE jugs are recycled. 
The rest can take thousands of years to degrade in landfills or the environment, all while leaching toxins. These jugs can take up to 500 years to decompose.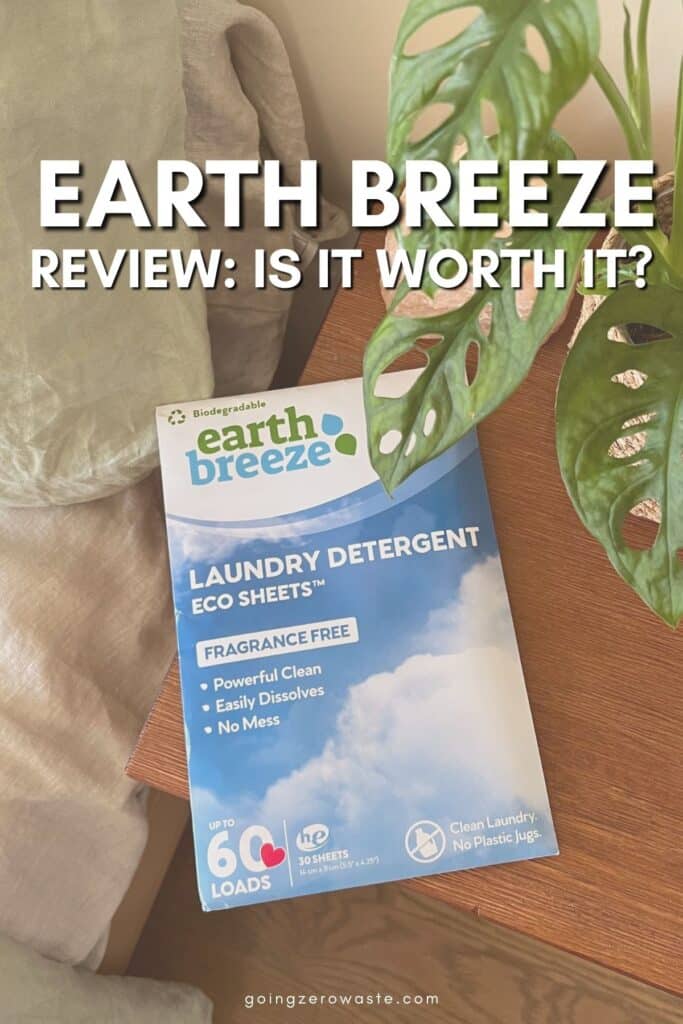 This post was sponsored by Earth Breeze. All thoughts and opinions are my own. For more information please see my disclosure policy. 
The OECD recently released a study on detergent bottles that talks about the sustainability considerations of plastic packaging. This was following the Global Forum on "Plastics in a Circular Economy: Design of Sustainable Plastics from a Chemicals Perspective".
One of the solutions stated was using more recycled plastic in detergent bottles, as this can down on emissions. A way to encourage this would be a mandatory minimum percentage of recycled content or a positive monetary incentive for businesses to use recycled plastic. 
Currently, most detergent bottles on the market are made from virgin plastic, which has a high carbon footprint. Virgin plastic must be extracted from the earth as crude oil, and it takes a lot of energy and resources to transform it into a moldable plastic. 
But what if we cut out the plastic jug entirely? Enter Earth Breeze, a sustainable laundry detergent without plastic packaging. 
I got to try out their Eco Sheets and I'm excited to share the results. Here's my full Earth Breeze review and everything you need to know about their brand. 
how does earth breeze combat single use plastic waste? 
Earth Breeze Eco Sheets doesn't have plastic packaging: The sheets come packaged in a flat cardboard envelope you can rip up and add to your compost bin when empty.  
This plastic free packaging is great for several reasons: 
The sheets inside are ultra-concentrated so they're very lightweight. 
Being lightweight means more products can fit on transport. 
This means less corrugated cardboard for crating, less gasoline used, and fewer trucks to move the shipments (source). Earth Breeze also ships everything carbon-neutral.  
Approximately 1 billion laundry jugs are discarded in the United States each year. Only 30% percent of these plastic jugs get recycled, while the remaining 70% end up in landfills, with many finding their way into our oceans. No plastic jug eliminates this problem.
No plastic equals less water waste. It takes 3 liters of water to make ONE liter of bottled water. Globally, the laundry industry consumed 5 million tonnes of water in 2015 alone. (source)   Liquid detergent can be up to 90% water, while Earth Breeze's concentrated formulas have saved 19.6 million liters of water by being liquidless.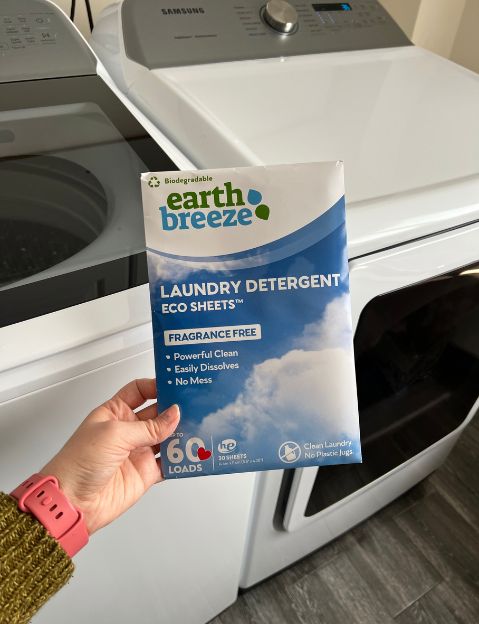 do earth breeze sheets dissolve? 
Yes, Earth Breeze sheets dissolve upon contact with water. So, when you toss it in your drum, it will act the same way a liquid detergent would.  
Earth Breeze Eco Sheets will dissolve if you put them directly inside the drum, or in the detergent dispenser. Both are safe options, and I will discuss which option to do depending on your washer type later. This detergent works in hot and cold water washes on any cycle. 
can earth breeze be used in he washers? 
Yes, Earth Breeze can be used in HE washers. They work in all machines, and are septic and greywater certified. They're also great to use for hand washing delicates and clothes on the go!  
does earth breeze work in hard water? 
Yes, Earth Breeze works in hard water, and soft water. Speaking from experience, I've used Earth Breeze in both California and Maine where the water hardness is different. In both states I had a good overall experience with Earth Breeze.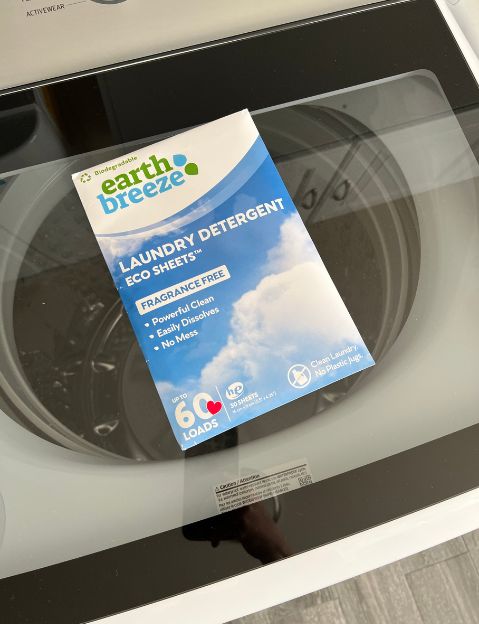 is it easy to cancel earth breeze? 
Yes, it is easy to cancel, pause and alter your Earth Breeze subscription if you no longer want to continue a subscription. They have a subscription option where you can choose to have Earth Breeze delivered at a frequency that suits you, which saves money. 
However, if you'd like to cancel you simply login to your account and choose "edit" to make any changes. If you scroll to the bottom of your page, you can find an option to cancel your subscription. There are no hidden fees, contracts, or cancellation penalties. 
There's also the option to order their products once, just to try it out with no strings attached.   
does earth breeze use palm oil? 
Earth Breeze does not use palm oil. They also do not use bleach, phthalates, phosphates, or parabens. This means they're gentle enough to use to clean baby's clothing, or clothes for those with sensitive skin. 
They also have a fragrance-free option, which is best for anyone who is sensitive to specific scents or strong perfumes. Earth Breeze is dermatologist tested, allergy-tested, vegan and cruelty-free. 
is earth breeze a us company? 
Yes, Earth Breeze is a US company, with their headquarters located in Medford, Oregon, United States. 
how do you use earth breeze eco sheets? 
According to the packaging instructions, you take a sheet according to size load, and where you place it will be determined by your washer type. 
For top load washers, you place the sheet inside the washer on top of clothes/linens. 
For front-load washers, tear and place the sheet in the detergent dispenser.  
Here's how much to use: 
Half a sheet: Medium load (½ drum full) 
One sheet: Large load (¾ drum full) 
Two sheets: Heavily soiled or extra large load (full drum) 
It works with both cold and warm water, and the concentrated strips dissolve easily and completely.  
RELATED: 5 Reasons You Shouldn't Use Homemade Laundry Detergent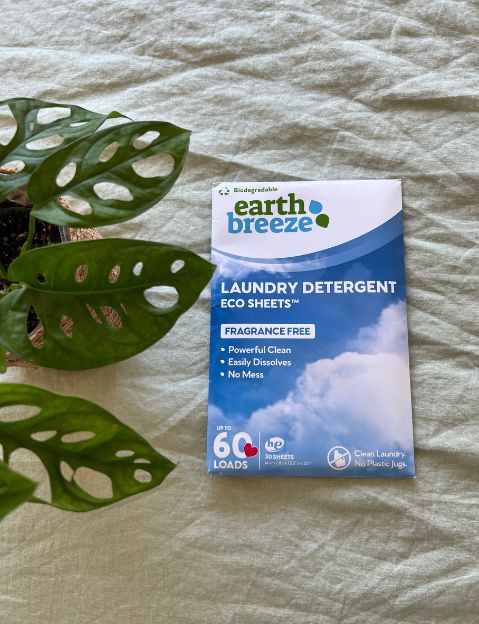 earth breeze review: my experience 
Okay, here's the moment of truth: My personal experience with Earth Breeze laundry detergent. 
I tested it out on two things: My towels and my clothes. I wasn't sure if a 14 cm x 11cm sheet could do the trick but I was pleasantly surprised. 
Both my towels and my clothes came out spotless and clean. I washed them during separate, individual loads. 
I have a top-load washer so I put my eco sheet directly on top of the towels and clothes. It was fun to watch the water dissolve it right before my eyes. 
I tried their fragrance-free version so there wasn't a specific scent on them once they dried, but I prefer it that way. 
There was also no filmy residue on the clothes or towels – they were nice and soft.
Since it's packaging is so lightweight and compact, I was able to fit it in with my other cleaning products without it being cumbersome and taking up room.
is earth breeze worth it? 
Overall, I'd say Earth Breeze is worth it. It does a good job of cleaning my clothes, comes with practically no packaging waste, no plastic, and is formulated out of safe ingredients. 
Here are the benefits of using Earth Breeze: 
Powerful clean 
Plastic-free
One package does up to 60 loads 
Biodegradable packaging + ingredients 
Hypoallergenic, vegan + cruelty-free
HE washer approved 
1% For the Planet member 
Donates 10 washes for every package purchased
Free Carbon neutral shipping
Easy and affordable
Would you give this eco-friendly laundry detergent a try? What did you think of my Earth Breeze review? Let me know in the comments!
[ad_2]